Tell your friends about our two different types of Family Dances, where dancers of all levels of experience levels and ability — small children, larger children, teens, and adults — dance joyfully together. Family dances are definitely family-friendly, but you are also welcome to come without other members of your family. With a focus on irresistibly fun and simple dances, family dancing is a way for kids and adults to jump into dancing in a safe and merry way, even if they have never danced before. It also allows accomplished dancers to reconnect with much of the joy and energy that started them dancing in the first place.
Our family dances feature the music of the All Comers Band. We always have a musician or two as "ringers," to ensure that the music is strong, but all are welcome to join… including you! Bring your shakers, or clarinet, or banjo, or autoharp, or whatever you have. Want to practice in advance? You can try out some of the tunes and medleys you'll find here in our All Comers Repertoire document. We always bring copies to the family dances as well.
And, yes, there are two opportunities each month for family dancing:
1. First Sunday: "Family-Friendly Barn Dance"
We offer a "Barn Dance" on Sundays from 2:00-4:00 of the first full weekend of every month. Although these don't really take place in a barn, we try to create the relaxed ambience and informality associated with barn dances. All the dances we teach are chosen for maximum fun and minimum difficulty. With a suggested donation of $5/adult and $2/child, the price is right too!
2. Third Saturday: "Contra Warmup Family Dance"
Family dances also precede our monthly contradances.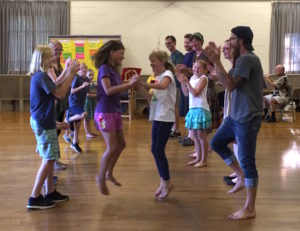 Third Saturday Family dancing starts promptly at 6:30. The band tunes up, and the caller presents a program of sometimes silly, usually simple, and always satisfying dances for your dancing pleasure. The pricing is family-friendly as well (suggested donation is $2/adults; $1/kids and teens). Family dancing is followed by a short break for snacks or socializing while the sound check is completed for the evening's featured band. Then our regular evening dancing begins as usual at 7:30. Family dance participants of any age are welcome to stay for the regular dance — and if you decide to stay, the family dance admission is free!