First and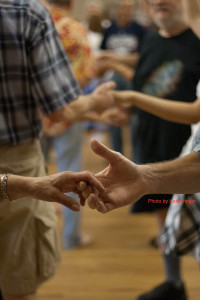 foremost, both contra and English dancing are enormously fun! No description in words can convey the sense of joy, unity and excitement that a community dance can offer. You just have to come a few times to find out for yourself.
Despite similar sounding names, contra dancing is not the same as country line dancing. Contra dancing is a more closely related to its cousins, square dancing and English country dancing, which have many similar figures and movements. The dances generally start in a "contra line" or "longways set," rather than, say, a four-couple square formation (although dances in squares or other formations are included at times as well). A contra line is just a set of couples lined up, one behind the other as they face the stage. The dances are designed so that you and your partner will dance with every other couple in your line. A caller teaches each dance sequence, telling you everything you need to know (no classes are necessary). The dances are done with a smooth walking step, and fancy footwork is rarely required.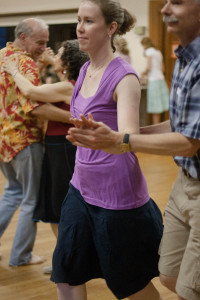 Everybody's welcome. We're an exceptionally friendly, multi-age group; the regulars include teens, seniors and everything in between. Our events are both smoke and alcohol free, and dress is casual. People come with or without a partner. Even those who arrive with a partner generally dance with many other partners through the evening as well, and this is encouraged. It's part of the fun!
If you're new to this, we suggest coming at the beginning of the dance, since that's usually when the caller teaches most carefully, with newcomers in mind.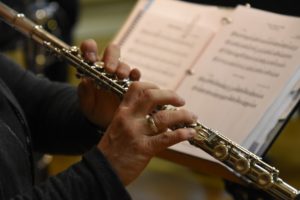 We always dance to live (and lively!) music provided by a range of talented dance musicians. Reels, jigs, waltzes and related tunes from American, Canadian and British Isles traditions predominate, and the fiddle is often a featured instrument. Tunes for English country dance tend to be particularly varied in style and feeling. Many go back to the 1600s.
The website for our parent organization, the Country Dance and Song Society (CDSS) conveys a sense of what our dancing is about. You can also find a detailed descriptions of contra dancing at Gary Shapiro's Contradance page. For more about English country dancing, check out Alan Winston's description: What is English Country Dancing? 
Searching for contra dance or English country dance in YouTube will bring up many examples of what we do, although as with many things on the Internet, quality varies greatly.
We hope you'll come to one of our dances soon, and discover for yourself what these kinds of dancing are all about!