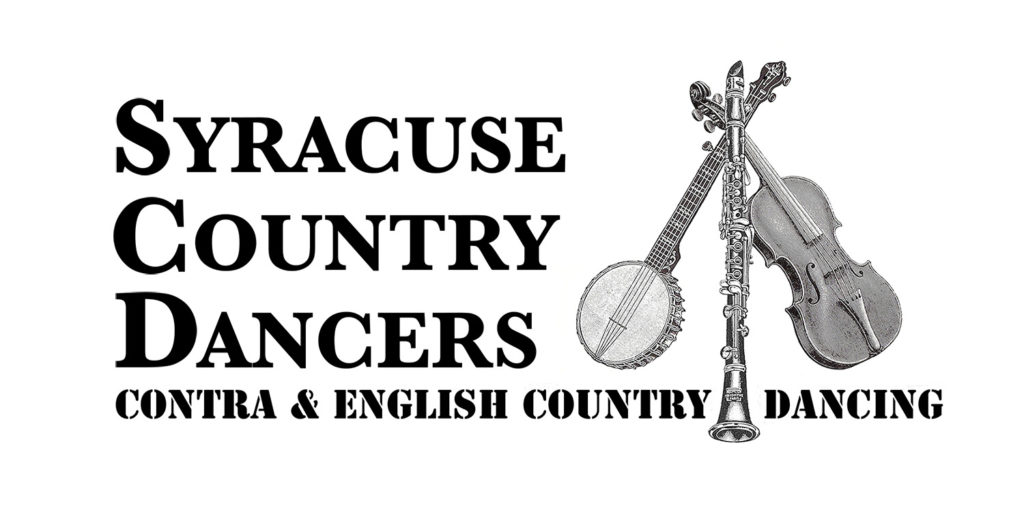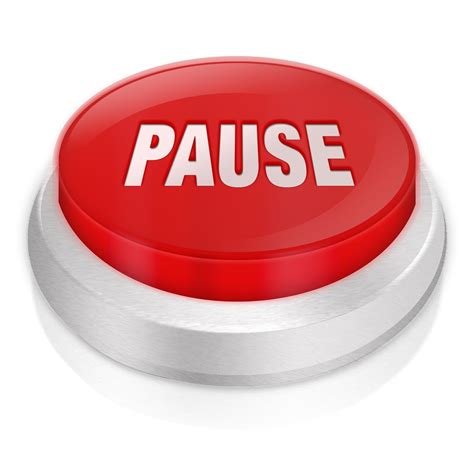 Please Note: We have hit the pause button on dances while our interconnected planet is coping COVID-19. We expect to enjoy dancing all the more once we are able to return to it!
While you are staying safe at home, there are some dance-related things you might do…. including our first virtual English Country Dance.
And, here's a Save the Date–Just in Case flyer for our fall weekend of dancing. We don't know yet if we can hold it, but planning is going ahead. If it's safe to dance, you can bet we'll be dancing!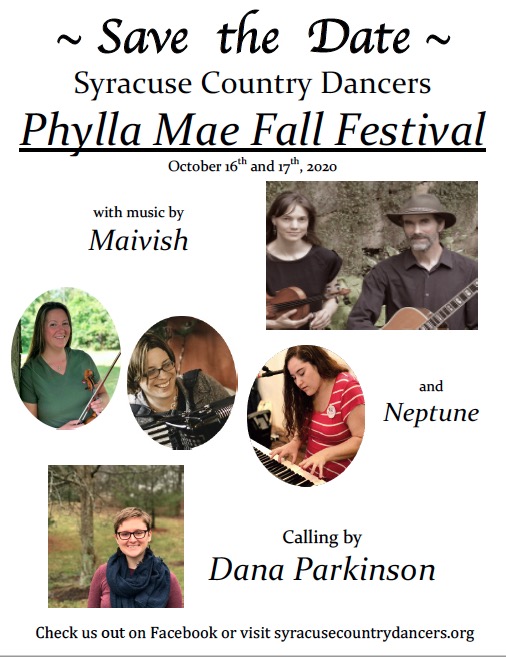 ONCE THE DANCING STARTS AGAIN . . .
Come join us at any of our contra dances or English country dances
. They are a blast! There is always a caller who teaches each of the dances. And we dance to exciting, live music.
Come with or without a partner. New dancers are always welcome. If you're an old hand, you already know how much fun it can be.
If you have not danced before, we encourage you to come at the beginning of the dance to get the most out of the teaching, and be prepared to smile a lot! You can always come a bit earlier and ask for a mini-orientation.
How can I learn more about contra dancing and English country dancing?
Just come to a dance! While you're waiting for your next chance to do that, you can check out our description of contra dancing and English country dancing, or browse through some of the many youtube videos that people have shared on the Internet.
When are the dances?
Regular dances happen on first and third weekends of each month, as in the chart below.
Saturday night dances go from 7:30-10:30 PM.
Sunday Gatherings are from 2:00-4:00 PM. See the Gathering Page to learn more about how these events work.
Exceptions to our schedule formula happen from time to time, so it is always a good idea to check before traveling. Upcoming dances are listed in the column on the right-hand column of this page. Those and more can be found on our schedule page.
1st Weekend
Saturday, 7:30-10:30
English country dance
3rd Weekend
Saturday, 7:30-10:30
Contra dance
Sunday, 2:00-4:00
English country dance gathering
Occasional other dates
TBA
Special events
Can I get reminders about upcoming dances?
Yes, you can sign up to receive reminders before each dance, either as email (use the handy-dandy form on the right of this page), or as a text by emailing our friendly text-smith and including the phone number where you want the texts delivered.
You can also subscribe to have our events appear in your electronic calendar. (If you have any difficulty doing this, there are some links on our schedule page that might help.)
Where are the dances?
Usually at

the United Church of Fayetteville. We occasionally have special events at Madison Hall in Morrisville. And from time to time we will hold a dance at another location. Don't have a car? Use our Facebook page to set up a ride-share with another dancer. Ride-share drivers, ask for your $2 "go green" price reduction!
How much is admission?
Admission to all of our events is on a sliding scale. You are entirely welcome to pay what you can to attend.
The recommended admission on Saturday nights is $10. Supporters are encouraged to pay $15-20. People with limited income (such as students or seniors) typically pay $5. If you come in a group and wish to pay a group rate, we also suggest $5/each.
Recommended admission to the Sunday gatherings is just $5.
Please note that recommended admission is higher for occasional special dance events, such as our Contra Prom or the annual Phylla Mae Fall Fest — events that require more resources to put together.
Your admission pays for callers, musicians, and expenses like rent, insurance, etc. No money is earned by the volunteers who do all the other work involved in putting on our dances. When we earn any profits, these are put back into the running of the dance (for example, by paying for upkeep of our sound equipment).
What should I wear to a dance?
Go for comfortable, informal clothes. It's best to avoid colognes and perfumes, because some dancers have sensitivities to those. To help us protect the wood floors, please wear or bring soft-soled, grit-free shoes. (Avoid flip flops and high heels.) Don't feel you need to purchase special dance shoes; sneakers are fine and there is a brush at the dance to clean your street shoes if necessary.
How can I get involved?
If you'd like to support our dance by volunteering, thank you! There are many informal ways to start. You can bring a snack for the break. Or bring friends to the dance to help build attendance. Maybe do some dishes after the snack break, or help with sweeping or cleanup after a dance. If you feel ready to graduate to more substantial involvement with the dance organization, please contact Patty, our volunteer coordinator — or talk to any of the organizers you meet at a dance.
You can also support the dance by making a donation.
CDSS


We are an affiliate of the Country Dance and Song Society. You can become a CDSS member for as little as $25.
FAQ
See our FAQ page for more answers to your questions.
Contact Information
Please feel free to contact us with any questions or inquiries.