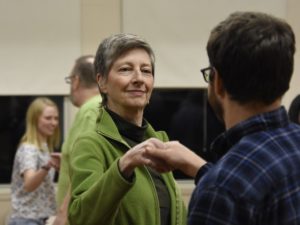 Double your enjoyment with an afternoon session of English country dancing designed for those who welcome some challenge, followed by a potluck supper, and English country dancing for all in the evening.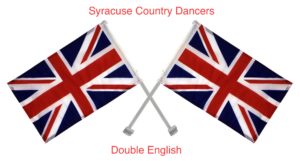 November 4th, 2023
United Church of Fayetteville
We are thrilled to have music this year by Peregrine Road: Rachel Bell and Karen Axelrod, on accordions and piano. This powerhouse duo will, in different moments, lift your feet, take your breath away, make you cry, slip into your dreams, exhilarate you, start your heart racing, or bring tears of joy to your eyes.
We are also blest to have a wealth of calling talent in upstate New York. As always, several excellent leaders of English country dancer will share calling duties for the event, with a variety of material and styles that is sure to delight.
Here's the schedule for the day:
2:30-5:30 ~ ECD for those not needing instruction in basic figures
5:30-7:00 ~ Potluck supper
7:00-10:00 ~ English country dancing for all (any sort of fancy dress)
You are welcome to come for 1, 2 or 3 parts of the event in any combination that works for you. Recommended admission is $15 for either dance session and $25 for both. As always, you can decide to pay more if you wish to support the event, or less for those with limited income.
We encourage you to dress up for the evening dance, and will provide changing spaces at the church. Your costume can be of any sort that makes you look good; your splendid apparel will not be judged based on anyone's notion of historical accuracy! Also, please note that while dressing up in finery will be admired, it is not required.