performers – schedule – registration – pumpkin carving contest – other details
---
Back after after a 4-year hiatus…
PHYLLA MAE FALL FEST #23!
OCTOBER 20-21, 2023
Grace Episcopal Church
819 Madison St. in Syracuse, NY
---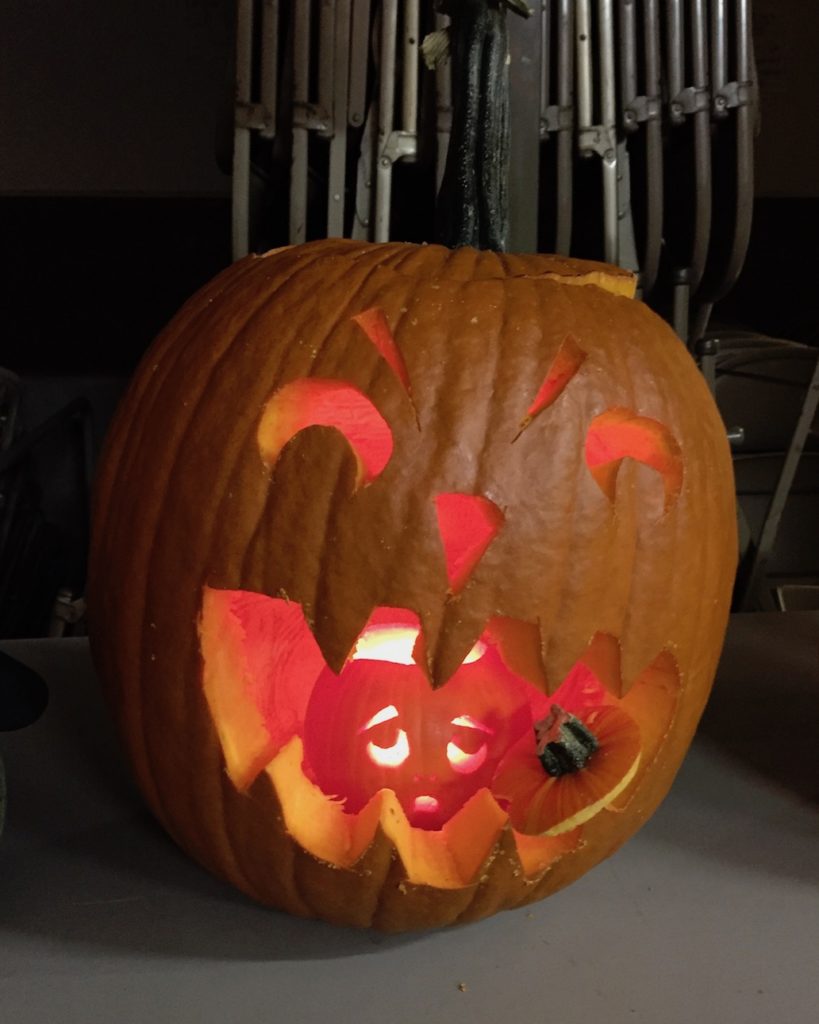 Phylla Mae (pronounced "fill-a-may") is a music and dance party we throw each year on the third weekend in October. We always invite great musicians and callers from near and far, and we offer wonderful workshops and loads of dancing. We are also known for high spirits, tasty refreshments, decorations, camaraderie, and…well…pumpkins.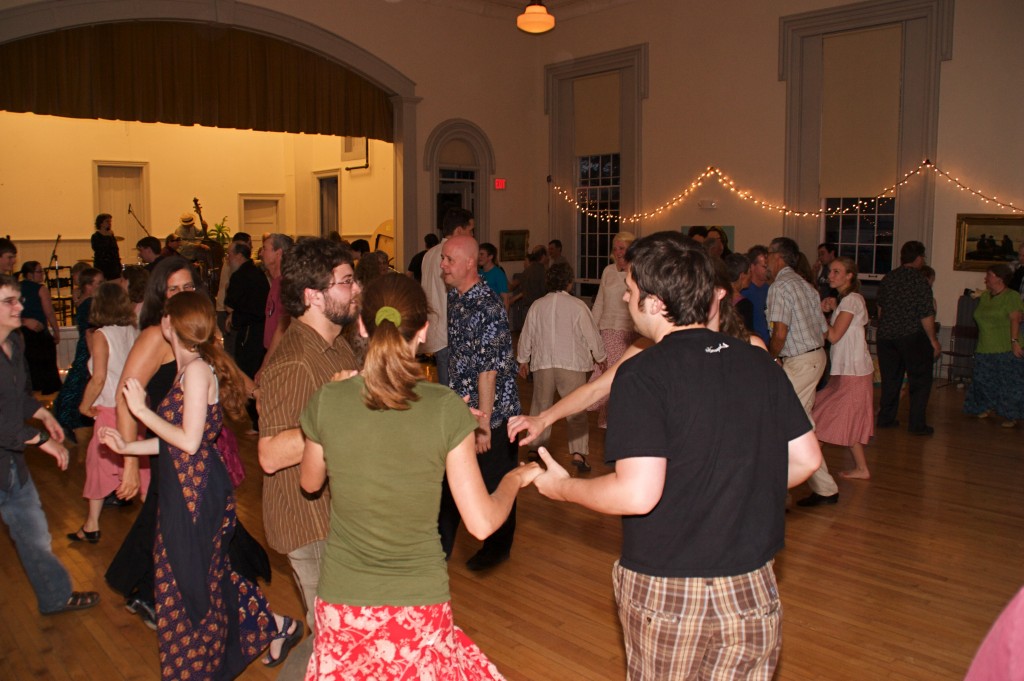 ---
Featuring calling by three fabulous callers: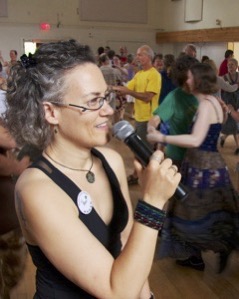 Bev Bernbaum from Peterborough, Ontario is in demand as a caller at dance series, dance weekends and dance camps across Canada and the US. She has called as far afield as Denmark, the Czech Republic, and New Zealand.
Communities seek Bev out because her crisp calling and sense of fun provide such a great experience for their dancers. Bev's philosophy is to call dances that she loves to dance herself, and she's always on the lookout for interesting figures or formations to mix things up. Her clear voice, calm manner, and straightforward teaching style make contra dancing a pleasure for beginning and experienced dancers alike.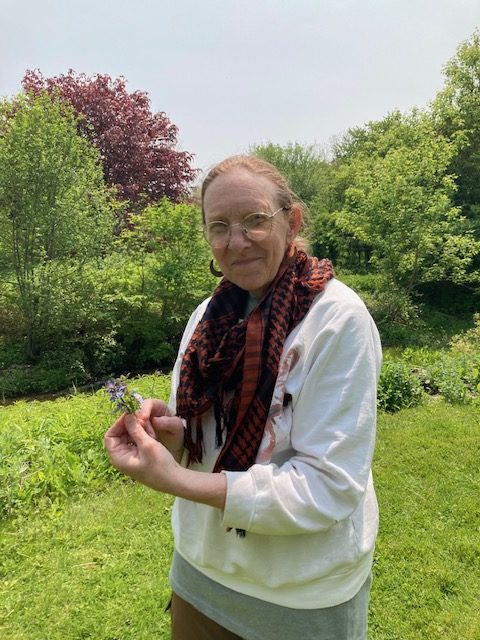 Pamela Goddard learned to call English country dances from Christine Helwig, one of the great English country dance leaders of the twentieth century, and she is passionate about the classic ECD repertoire. Pamela's teaching is flexible and clear, and she understands the nuances of ECD style. Her warm chuckle invites dancers to join in the fun. Pamela is also an amazing a capella and harmony singer of traditional folksongs and ballads, and you will love the rich timbre of her calling voice.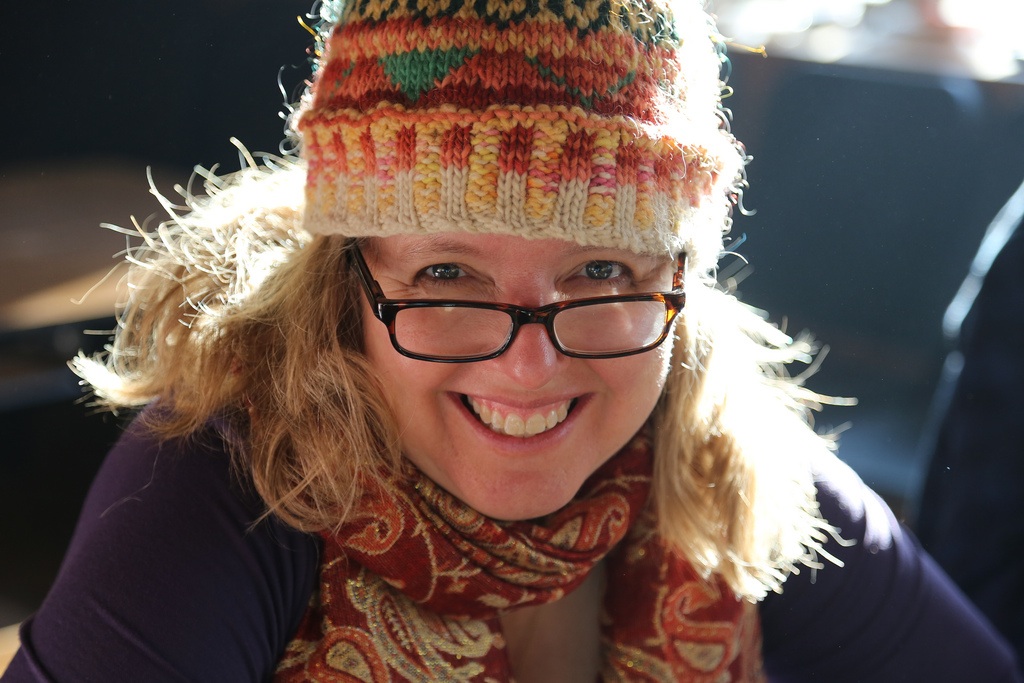 Vikki Armstrong has been calling dances since 1991. She's charming, witty, and fun. Her teaching is efficient and clear, and her rhythmic calling is right in the pocket with the music. Vikki selects the right dances for every situation, be it a barn dance, a contradance, or a singing square. Be prepared to have a great dance when she's in town.

and music by two exciting bands:
Ostara
Ostara is a band deeply grounded in folk traditions and more than capable of producing a powerful contra groove. The trio blends a rich texture of musical traditions from Western Europe, New England and Quebec with modern styles. With their contagious rhythm and expansive repertoire, Ostara has crafted a style that stirs up the dance floor.
Matthew Sloboda began fiddling in the mid 1990s after being introduced to the local Rose, NY contra dance. Early Suzuki violin lessons laid a solid foundation for technique and his fiddle style is influenced by New England, Irish and Quebecoise traditions. Matthew also developed traditional repertoire on the diatonic accordion and mandolin. Current bands include Lake Effect, Glenrose, and the recently formed Ostara.
Catherine Sloboda is a teacher of classical violin. Since 1995 Catherine has studied and performed in various fiddle styles at many camps in the US and Canada with a special interest in Quebecois repertoire. You can expect some magic when the Sloboda siblings fiddle together!
Tom Santarsiero has been influenced by the musical styles of New England, France, French Canada and southern Appalachia. Tom has developed an eclectic approach to playing guitar, mandolin, diatonic accordion, and foot percussion. His rhythm anchors musicians and dancers while giving them room for expression. Tom has played in The Groovemongers, Montage and New Brew.
and Sister Haggis
Sister Haggis is an upstate NY mainstay, beloved in the Syracuse community, and well known individually as traveling musicians who have played all over the country. As the duo, "Sister Haggis," Eileen and Jane play clear and expressive music for contra dancing, English dancing, and couple dancing. Expect to be delighted–this Haggis is tasty!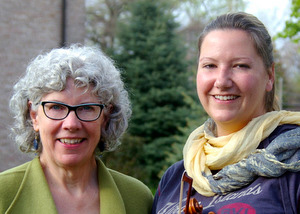 Jane Knoeck is a founding member of The Groovemongers and Montage, as well as several other superb bands, including Riverbend, and (with Eileen) New Brew and Shandy. She anchors the music with an inventive piano style that is rooted in tradition and eminently danceable.
Eileen Kalfass, the daughter of Syracuse's own Bob Nicholson, grew up dancing and fiddling for dances. She has played nationally with such bands as Seaglass and Continental Drift, and her award-winning solo recording, "Crossing Bridges" features collaborations with lots of amazing dance musicians. Her sound is big, expressive, and dynamic.
---
PMFF Schedule
Friday
Dance Hall
6:30 – 7:30
Potluck Dinner
We'll provide mulled cider and treats. Local dancers will provide the rest. If you are traveling from afar, just come and eat!
7:30 – 10:30
Friday Night Dance Party
Introducing Bev and Ostara!
Saturday
Dance Hall
Lounge
9:30 – 10:00
Coffee and Couple Dancing
Start the day with Sister Haggis
10:00 – noon
English Country Dancing
Pamela and Sister Haggis
noon – 1:00
– Lunch Break –
Register early and purchase a tasty on-site lunch.
1:00 – 2:30
Contras that Fly
With Vikki and Ostara
Warm up or cool down
Stretch space for dancers
2:45 – 4:15
Balfolk Dancing
Tom Santarsiero and Ostara
Band Workshop
with Jane Knoeck
4:30 – 6:00
The Style Games – increase dance awareness
Bev and Sister Haggis.
Open Jam
Calling all musicians!
6:00 – 8:00
– Dinner Break –
Sample one of many nearby eateries.
7:30 – 8:00
Waltzing and More
Couple dancing with Sister Haggis
8:00 – 11:30
Saturday Night Dance Party
Bev and Ostara heat up the hall!
---
Register early for the Phylla Mae Fall Fest! It will save you money and allow you to reserve a lunch. When you pre-register, you can also request or offer local hospitality. And we'll give you a PMFF button!
Click here to go to the Registration Page
---
Enter the Pumpkin Carving Contest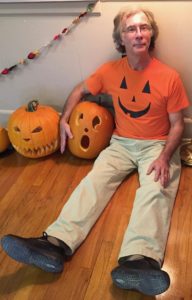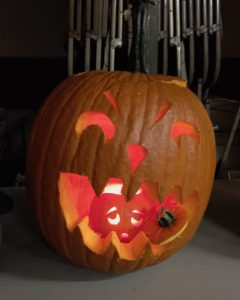 The PMFF is the only contra dance weekend with a pumpkin carving contest. Bring your carved pumpkin with you, or we'll supply some that you can carve on Saturday. You could win a delicious homemade pumpkin cheesecake!
---
You Can Help — Volunteer!
Contact Patty at any time to volunteer for our dance organization, including if you'd like to help out at the Phylla Mae weekend. Volunteers may help with decorations, floor sweeping, kitchen duties, tear-down, etc. We also encourage you to bring something to our Friday potluck at 6:30 PM before the first dance of the weekend. Thanks for lending a hand!
Getting to Phylla Mae Fall Fest
Our venue this year is Grace Episcopal Church of Syracuse, 819 Madison St. (corner of University Avenue), Syracuse, NY 13210, down the hill from SU campus. There is limited parking in the church lot, but you can also park for free in the hotel lot one block south of the church at the corner of University and Harrison.
Local Accommodations
We cannot guarantee finding beds for everyone, but if you register a.s.a.p. and let us know that you would like to stay with a local dancer, we will do our best to match you with a good host.
Information on other local accommodations is available from VisitSyracuse.org
Check Out Previous Years of the PMFF
2019 – Will Mentor, Sarah VanNorstrand, Genticorum, and more
2018 – Dela Murphy, Tempest, Sister Haggis, and more
2017 – Gaye Fifer, David Kaynor, New Brew, and more
2016 – Bev Bernbaum, George Wilson, Andrew VanNorstrand, and more
2015 – Kathy Anderson, Pete's Posse, and more
2014 – Russet Trio, Seaglass, The Squash Family, and more
2013 – Luke Donforth, Firefly, Happy Endings, and more
2012 – Adina Gordon, Montage, VanNorstrand brothers, Aaron Marcus, and more
2011 – David Kaynor, Magic Foot, and more
Who was "Phylla Mae"?
Phylla Mae was the "nom de dance" of Phyllis Antos — the name she always put on buttons or nametags at the many dance events she attended. Phyllis was one of the organizers who got our fall dance weekend off the ground in its first two years (1998 and 1999). Sadly, Phyllis died in a head-on collision on her way home from a clogging team rehearsal. Because Phyllis loved this fall dance weekend so much, and worked so hard on it, our Board voted unanimously to name it after her, and starting in the fall of 2000 it became The Phylla Mae Fall Fest.
Phyllis's favorite contra dance was Delphiniums and Daisies by Tanya Rotenberg, and we often find a way to include it in the weekend.