We hold these annual special events:
Phylla Mae Fall Fest
Our dance weekend in October.
Contra Prom
Our prom-themed dance in the spring.
Double English
Our "double-header" English dance in September.
Callers Gathering
Our workshop for dance callers in February.

We also proudly co-sponsor:
Great Bear Groove Weekend
The Great Bear Trio's annual dance weekend held in Oswego in May or June.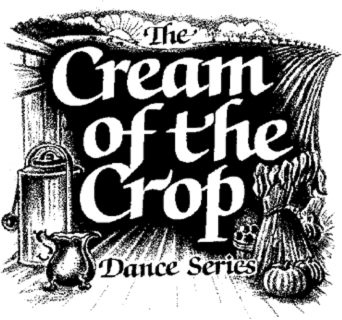 Cream of the Crop Dance Series
Since 1991 the "Cream of the Crop" dance series has provided Central New York with a very special series of New York/New England style traditional country dances as well as a variety of dance related workshops. The dances and workshops bring callers and bands with national reputations to central New York to provide contra and square dances of the highest quality. The "Cream of the Crop" series provides our community with traditional dancing at its best. It provides new dancers with the experience of a hall full of enthusiastic people dancing to the music of performers with great energy and skill. This same experience re-energizes experienced dancers.
"Cream of the Crop" events have featured nationally known performers, including:
Kathy Anderson
Bare Necessities
Les Freres Brunet
Mary DesRosiers
Fennig's
Scott Higgs
Tom Hinds
Jumpin' Judy
David Kaynor

Susan Kevra
Nightingale
Tony Parkes
Dan Pearl
Pete Sutherland
Jay Ungar and Molly Mason
Wild Asparagus
Yankee Ingenuity
Steve Zakon-Anderson
As well as talented regional performers, including:
Clef Hangers
Contradictions
Hommage Quebecois
Bob Nicholson
Passing Fancies
St. Regis String Band

David Smukler
Tomahtoes
The Woodshed All-Stars
Up South
The Groovemongers
The series has also included a noteworthy series of excellent workshops for musicians, callers, and dancers. These workshops focus on many dance forms, including: Clogging, English Country Dancing, Irish social dancing, Quebecois dance styles, Scandinavian couple dancing, square dancing, swing dancing, and waltz.
Currently we run two regular "Cream of the Crop" events per year, our Phylla Mae Fall Fest on the third weekend in October, and a spring callers gathering and dance. There are also occasional other dances in the series.
Please note that "Cream of the Crop" dances cost more to put on than our regular series, and so the admission is generally higher. However, dancers are always welcome to volunteer in lieu of payment, and no one is ever turned away from our dances because they are unable to pay.