This is an archived page about Phylla Mae Fall Fest 2012
October 14-15, 2012
featuring…
With additional music and calling from other local favorites, such as Eileen Nicholson, David Smukler, Curt Osgood, Margaret Matthews, Jill Smith and more!
Adina Gordon
Adina will be our main caller for the festival, and she calls Contras, English Country Dances and Squares with a wonderful style that has delighted dancers from coast to coast and everywhere in between.
Based in Brattleboro, VT, Adina has called dances in 36 American states spanning all six time zones, as well as 3 Canadian provinces and Israel. Dancers frequently remark on her energy and joy, which is both highly evident and highly contagious. An often-repeated comment is, "You look like you're having too much fun."
Adina's goal is to get you dancing and get out of the way. She says more, with fewer words, to maximize dancing and minimize talking. Experienced and new dancers alike enjoy her clear teaching and choice of engaging dances.
Montage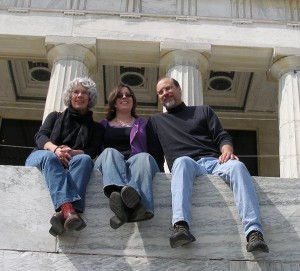 A contra dance band from Western New York and Pennsylvania, Montage plays an innovative mix of European-based music, rooted in tradition and strongly influenced by modern styles. As a trio, Jane Knoeck, Rachel Bell and Tom Santarsiaro, weave together everything from swing to Parisian to rootsy Breton folk styles.  Another focus of the band is authentic music for French bourree and other European dance styles, and they will be offering a French Dance Workshop on Saturday.
Andrew & Noah VanNorstrand (and friends…)
Outside-the-box, high energy Contra Dance music, featuring Andrew & Noah VanNorstrand, 2/3 of the Great Bear Trio, and a bunch of their friends. Sure to be an exciting mix of musicians who don't usually get the chance to collaborate on stage.
Aaron Marcus
While studying at ESF in Syracuse, Aaron was a regular member of our dance community, and we're excited that he will be joining us for this year's festival. He regularly plays piano, concertina, and banjo for English Country Dancing, Contras, and more in such bands as Frost and Fire, Giant Robot Dance and Jiggermeister. Studying for many years under Angel Ramón Rivera, as well as Paul Monte and Jacqueline Schwab, he has developed a tone and elegance not commonly heard among contra dance musicians. But he also knows how to groove hard!
He has also been dancing as long as he has been playing music. No foot concertos yet, but Aaron is often sighted clogging/flatfooting, morris dancing, West African dancing, or doing his own thing; at local contra dances, along sidewalks, or while leap-frogging over parking meters.
Schedule
Here's the finalized schedule for the weekend — don't miss a second of it!
Friday
Dance Hall
7:00 – 8:00
Potluck
8:00 – 11:30
Fantastic Friday Night Dance Party with Montage & Adina Gordon
Saturday
Dance Hall
Workshop Room
10:00 – 11:30
Marvelous Morning English with Adina Gordon, Eileen Nicholson & Aaron Marcus
11:45 – 1:15
"Ooh La La" French Dance Workshop with Montage
Morning Yoga
1:15 – 2:30
Lunch Break – sign up to have lunch provided at the dance hall when registering
2:30 – 4:00
Awesome Afternoon Contras with Margaret Matthews, Andrew, Noah, Daphne & Casey
Shape Note Sing
4:00 – 5:30
Beyond Dutch Crossing with David Smukler, Andrew, Noah & friends
Jammin' w/ Curt & Jill
5:30 – 7:30
Dinner Break
7:30 – 8:00
Couple dancing
8:00 – 11:30
Sensational Saturday Night Dance Party with Andrew & Noah, Adina Gordon, Eileen Nicholson, Aaron Marcus and more!
Logistics: Getting to Phylla Mae Fall Fest
Our venue is the United Church of Fayetteville which is also where most of our regular dances are held. It is located at 310 East Genesee Street in Fayetteville, NY. From either the NYS Thruway or I-81, get onto I-481. Take 481 to exit 3E. This puts you on E. Genesee St. (Rte. 5), heading east. The church is about 3 miles from that exit. You should stay to the left at the fork at Lyndon Corners to follow Rte 5. The church will be on your right in the village of Fayetteville.

Logistics: Local Accommodations
Register early and let us know if you are interested in the possibility of staying in a local dancer's home. Information on other local accommodations is available from VisitSyracuse.org