This is an archived page about Phylla Mae Fall Fest 2015
October 16 & 17, 2015
Calling by Kathy Anderson
More calling by Hilton Baxter and Carmen Giunta
Music by Pete's Posse 

More music by Laurie Hart, Autumn Rose Lester & Tim Ball
and even more (including dancing by you!)
Phylla Mae (pronounced "fill-a-may") is our annual music and dance festival that features great musicians and callers from near and far, wonderful workshops, and tons of dancing!
---
Kathy Anderson
Kathy Anderson is a featured caller at dance weekends and camps across the country and abroad. She has a huge repertoire of fantastic dances, a great teaching style, and an deliciously appealing voice. Kathy is especially gifted as a square dance caller, and is highly regarded as one of the most active callers of traditional and newly-composed square dances in the contra dance world.
---
Pete's Posse
Pete Sutherland (fiddle, piano, banjo)
Oliver Scanlon (fiddle, mandolin, dobro, foot percussion)
Tristan Henderson (guitars, mandolin, jaw harp, bodhran, foot percussion)
Picture twin fiddles in tight, wild harmony over high-powered guitar and pounding footwork. Now imagine the different timbres of mandolin, clawhammer banjo, jawharp and a rocking keyboard adding variety to the mix. Plus they can all sing… No wonder these guys are in such demand!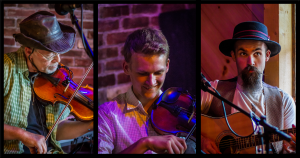 ---
Laurie Hart, Autumn Rose Lester & Tim Ball
Laurie is a consummate musician who has played fiddle in many bands over the years, including the Contradictions, and collaborated with many of the greats of various traditions. She has recorded extensively and published fiddle music as well. Her contra dance playing is influenced by her depth of experience with Quebecois, Scandi and other styles.
Autumn Rose grew up dancing and playing fiddle. Her playing is joyful and exuberant. It is a joy to watch her dance, play and (recently) corral the kids in the Groovemama band at the Old Songs Festival this past spring.
Tim, although a fantastic fiddler with such bands as Tunescape and Tempest, is also a dynamite guitar player. Although pictured with a fiddle below, Tim will be playing guitar with this trio. Tim recently completed a recording project with Sophie Orzechowski where they took turns playing all sorts of things.
These are three highly compatible musicians. All three are violinists as well as fiddlers, all three teach fiddle, all play multiple traditional styles, and all are outstanding musicians.
---
Hilton Baxter and Carmen Giunta
Two very fine callers round out the talent for the 2015 PMFF. Hilton has been deeply involved in
organizing dances in Binghamton, NY, and is a skilled contra dance caller. Carmen is a talented caller and choreographer who focuses on English country dance. Carmen has been an important leader in the Syracuse dance community for years.
---
Schedule
Friday
Dance Hall
7:00 – 8:00
Potluck
8:00 – 11:30
Fantastic Friday Night Dance Party with Kathy and Pete's Posse
Saturday
Dance Hall
Workshop
10:00 – 11:30
Exquisite English Country Dancing with Carmen Giunta and Laurie, Autumn Rose & Tim
11:45 – 1:15
High Noon Contras with Hilton Baxter and Pete's Posse
Morning Yoga: Rita Anderson
1:15 – 2:15
Lunch Break – if you did not pre-register for lunch at the dance hall, a few extras may be available
2:15 – 3:45
Artful Afternoon Contras with Kathy and
Laurie, Autumn Rose & Tim
Shape Note Singing: Pete Sutherland
4:00 – 5:30
Irresistible Squares with Kathy and
Pete's Posse
Morris Dancing: Bassett Street Hounds
5:30 – 7:30
Dinner Break
7:30 – 8:00
Couple dancing
8:00 – 11:30
Sensational Saturday Night Dance Party with Kathy and both bands!
Register or Volunteer
Pre-registration at the earlybird rate is now closed. But there is still plenty of space for dancers. Just come and pay at the door.
Contact Patty at any time to volunteer for our dance organization, including if you'd like to help out at the Phylla Mae weekend. Volunteers may help with decorations, floor sweeping, kitchen duties, tear-down, etc. We also encourage you to bring something to our Friday potluck at 7 PM before the first dance of the weekend. Thanks for lending a hand!
---
Getting to Phylla Mae Fall Fest
Our venue is the United Church of Fayetteville which is also where most of our regular dances are held. It is located at 310 East Genesee Street in Fayetteville, NY. From either the NYS Thruway or I-81, get onto I-481. Take 481 to exit 3E. This puts you on E. Genesee St. (Rte. 5), heading east. The church is about 3 miles from that exit. You should stay to the left at the fork at Lyndon Corners to follow Rte 5. The church will be on your right in the village of Fayetteville.
---
Local Accommodations
Register a.s.a.p. and let us know if you are interested in the possibility of staying in a local dancer's home. Information on other local accommodations is available from VisitSyracuse.org
---
Previous Years
Phylla Mae Fall Fest 2014
Phylla Mae Fall Fest 2013
Phylla Mae Fall Fest 2012
Phylla Mae Fall Fest 2011
---
About "Phylla Mae"
Phylla Mae was the "nom de dance" of Phyllis Antos — the name she always put on buttons or nametags at the many dance events she attended. Phyllis was one of the organizers who got our fall dance weekend off the ground in its first two years. After she was killed in a head-on collision on her way home from a clogging team rehearsal, our Board voted unanimously to name the weekend after her, since she loved it so much and worked so hard on it. Phyllis's favorite contra dance was Delphiniums and Daisies by Tanya Rotenberg, and we often find a way to include it in the weekend.