performers – schedule – registration – pumpkin carving contest – other details
Phylla Mae (pronounced "fill-a-may") is a music and dance party we throw each year on the third weekend in October. We always invite great musicians and callers from near and far, and we offer wonderful workshops and loads of dancing. We are also known for high spirits, tasty refreshments, decorations, camaraderie, and…well…pumpkins.
---
Please join us for the 22nd annual
PHYLLA MAE FALL FEST
October 18-19, 2019
Dance calling by:
Will Mentor
Also:
Sarah VanNorstrand
Bob Nicholson
Carmen Giunta
David Smukler
AND
Musiciens Extraordinaires:
Genticorum
Also:
Eileen Kalfass
Karen Axelrod
and more

---
Featured Caller: Will Mentor!
Will hails from Northern Vermont, and calls contra and square dances for events across North America. He is beloved for his clear teaching, upbeat wit, and relaxed manner. Will has also written some fantastic contras. He loves to design programs with a variety of dances and tempos that at times surprise and always delight, all the while keeping intact his guiding principle as a caller: "It's all about the dancers!"
---
Featured Band: Genticorum!
Quebec's Genticorum is the real deal. Over the past 18 years, this powerhouse trio has built a well-deserved reputation to become a fixture on the world, trad, folk and Celtic music scenes. Their six albums have met with much critical acclaim in Canada, the US and Europe. They have played over 800 concerts in more than 15 countries, dazzling and charming audiences with their energy and stage presence.
Genticorum is also a dynamite band for dancing, weaving together precise and intricate fiddle, flute and accordion work, dynamic foot percussion and crisp guitar accompaniment into a big and jubilant musical feast.
The musicians of Genticorum are: Pascal Gemme (fiddle and foot-tapping), Nicholas Williams (flute, accordion, piano), and Yann Falquet (guitar, piano). All three are also wonderful harmony singers.
---
And More Fabulous Calling and Music:
Carmen Giunta and Bob Nicholson, who will be leading a set of English dances on Saturday morning, are both experienced and skillful teachers of English dance. Carmen also teaches International dancing and Bob has called contras throughout our region and beyond. Their collaboration is certain to please. Bob and Carmen will share leadership of an English country dance session to start us off on Saturday morning.
Sarah VanNorstrand calls a wide variety of contra dances as well as squares, English dances and party/family dances for all kinds of groups: festivals, schools, and dance organizations across the US and Canada. She also originated the spectacular Syracuse Country Dancers Contra Prom. Sarah clearly enjoys herself when she calls, and this enthusiasm is infectious — so that dancers have just as much fun as she does. You can expect great dance choices, clear teaching and a welcoming, inclusive delivery. Sarah will be calling for contras and English dancing on Saturday afternoon.
David Smukler has been a contra dance caller since the mid-1980s. He started calling English "as a second language" about 20 years later, and now calls regularly for both, throughout upstate New York and beyond. He is known for a wide repertoire, attention to detail and a gentle demeanor. David is also the author of Cracking Chestnuts, a book about classic contra dances. David will share the calling at a couple of sessions with Sarah, and will also be running sound for the weekend.
We are thrilled to have Karen Axelrod join us at this year's Phylla Mae Fall fest. Karen is highly regarded for her creative piano playing, which runs the gamut: sometimes playful, sometimes eloquent, and sometimes powerful. Karen is in several extraordinary bands, including Foxfire, with Daron Douglas, and Alchemy, with Eric Martin and Rachel Bell. She plays for English, American, and Scottish dance events around the country, and is a favorite at many dance camps. Karen also is a fine accordionist, and plays with 3rd String Trio–a band that plays old world cafe music, as well as Orion Longsword. In addition to her musical talents, Karen is known to be an extremely funny person. Expect some giggles!
It is easy to see why Eileen Kalfass is in such great demand as a fiddler for both contra and English country dances. Classical technique and rich tone combine for a sound that is both dynamic and expressive. Eileen plays in multiple combinations, including the bands Seaglass, New Brew, and Continental Drift. Her recent recording, Crossing Bridges, was the 2019 SAMMY award winner in the Americana category. Eileen's playing combines sweetness for your heart, and energy for your feet.
Laurel Sharp plays recorders, whistle and oboe for English country dancing, and is part of several popular musical projects in our region, including Hey for Three (with Eileen), Amity, and Dames Rocket. Her precise timing and imaginative harmonies add depth to the sound. Laurel joins Eileen and Karen to provide luscious music for English country and couple dancing .
---
PMFF Schedule
Friday
Dance Hall
6:30 – 7:30
Potluck Dinner
We'll provide mulled cider and treats. Local dancers will provide the rest. If you are traveling from afar, just come and eat!
7:30 – 8:00
Warm-up Waltzing
Music by Genticorum
8:00 – 11:00
Friday Night Dance Party
Introducing Will and Genticorum!
Saturday
Dance Hall
In the Lounge
9:30 – 10:00
Coffee and Couple Dancing
Karen, Eileen and Laurel.
10:00 – noon
English Country Dancing
Bob and Carmen calling; music by Karen, Eileen and Laurel.
Jam
Calling all musicians!
noon – 1:00
Lunch Break
Register early and purchase a tasty on-site lunch.
1:00 – 2:30
It's All About the Dancers
Contras with Will; music by Karen and Eileen.
Yoga
A chance to stretch and get the kinks out.
2:45 – 4:15
"Genticontra"
Contras with Sarah and David; music by Genticorum.
Caller's Workshop with Will: "Widen Your Palette: Any Tune / Any Moves" (for callers at all levels).
4:30 – 6:00
Not the Queen Mother's ECD
David and Sarah show you just how much fun English dancing can be (not that the Queen Mother doesn't have fun…); Music by Karen, Eileen and Laurel.
Inside Quebecois Music
All you always wanted to know about Quebecois music but were afraid to ask…. With Genticorum.
6:00 – 8:00
Dinner Break
Sample one of many nearby eateries.
7:30 – 8:00
"Dance first. Think later. It's the natural order"
Couple dancing: Music by Eileen and Laurel.
8:00 – 11:30
Saturday Night Dance Party
Will and Genticorum heat up the hall
---
Pre-registration for the Phylla Mae Fall Fest has ended
Click here to see admission prices at the door
---
Enter the Pumpkin Carving Contest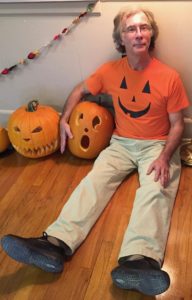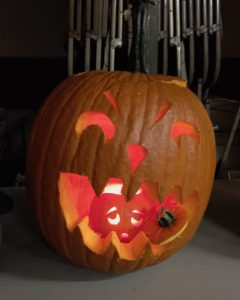 The PMFF is the only contra dance weekend with a pumpkin carving contest. Bring your carved pumpkin with you, or we'll supply some that you can carve on Saturday. You could win a delicious homemade pumpkin cheesecake!
---
You Can Help — Volunteer!
Contact Patty at any time to volunteer for our dance organization, including if you'd like to help out at the Phylla Mae weekend. Volunteers may help with decorations, floor sweeping, kitchen duties, tear-down, etc. We also encourage you to bring something to our Friday potluck at 6:30 PM before the first dance of the weekend. Thanks for lending a hand!
Getting to Phylla Mae Fall Fest
Our venue is the United Church of Fayetteville which is also where most of our regular dances are held. It is located at 310 East Genesee Street in Fayetteville, NY. From either the NYS Thruway or I-81, get onto I-481. Take 481 to exit 3E. This puts you on E. Genesee St. (Rte. 5), heading east. The church is about 3 miles from that exit. You should stay to the left at the fork at Lyndon Corners to follow Rte 5. The church will be on your right in the village of Fayetteville.
Local Accommodations
We cannot guarantee finding beds for everyone, but if you register a.s.a.p. and let us know that you would like to stay with a local dancer, we will do our best to match you with a good host.
Information on other local accommodations is available from VisitSyracuse.org
Check Out Previous Years of the PMFF
Phylla Mae Fall Fest 2018
Phylla Mae Fall Fest 2017
Phylla Mae Fall Fest 2016
Phylla Mae Fall Fest 2015
Phylla Mae Fall Fest 2014
Phylla Mae Fall Fest 2013
Phylla Mae Fall Fest 2012
Phylla Mae Fall Fest 2011
Who was "Phylla Mae"?
Phylla Mae was the "nom de dance" of Phyllis Antos — the name she always put on buttons or nametags at the many dance events she attended. Phyllis was one of the organizers who got our fall dance weekend off the ground in its first two years (1998 and 1999). Sadly, Phyllis died in a head-on collision on her way home from a clogging team rehearsal. Because Phyllis loved this fall dance weekend so much, and worked so hard on it, our Board voted unanimously to name it after her, and starting in the fall of 2000 it became The Phylla Mae Fall Fest.
Phyllis's favorite contra dance was Delphiniums and Daisies by Tanya Rotenberg, and we often find a way to include it in the weekend.